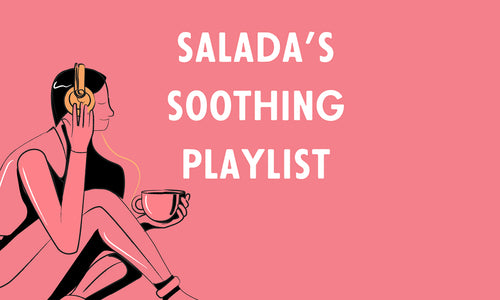 Salada's Soothing Playlist
Hey you, yeah you... have you done anything kind for yourself today? You deserve some you-time. The world is in a heightened state of stress and uncertainty, it can be really easy to neglect self-care and give way to the pressures around you. We don't want you to just survive life, we want you to conquer it! Take a deep breath, grab a cup of tea and unwind with our brand-new playlist. Salada's Soothing Playlist was created with you in mind. Inspired by our newest line Salada Soothing Teas, we hope this playlist helps you relax. You earned it.  
There's nothing quite like getting in your favorite cozy outfit tucking into that perfect position with a fluffy blanket and turning your phone on do not disturb. The only thing that could possibly make this situation better is a cup of tea. Salada's Soothing Playlist plus Salada Soothing Teas equals the ultimate listening experience. It's important to get this equation just right, we want to help create the perfect relaxation moment for you. Match your tea with your favorite way to unwind.   
Cinnamon & Hibiscus  
Toasty cinnamon and tart, fruity hibiscus – a blissful blend of the best home comforts. A gentle take on powerful flavors. Cinnamon Hibiscus pairs perfectly with your favorite playlist and some comfy clothes. This blend takes chill time to a new level. Tune out for a bit. 
Chamomile & Rose Blossom  
A calming blend of gentle rose blossom and sweet chamomile to help you exhale stress with every sip. This tea is made for those calm moments of meditation. Relax and take a deep breath, let your mind wander and exhale after every sip. Find that inner zen!  
Chamomile Infusion  
Breathe in, breathe out, and say hello to our comforting chamomile tisane – crisp, delicate and calming. Curl up with a good book and take it easy for a while. Get lost in the world of characters who feel like friends and take Chamomile Infusion with you on the journey!  
Chamomile & Vanilla   
Whatever the day throws your way, relax, unwind and float away. Indulge in a moment of calm and quiet with soothing chamomile and rich vanilla. Ahh, much better. Winter hasn't come quite yet, which means there is still time to get outside and get cozy in your hammock or your favorite sunny spot! Let the wind blow through your hair and listen to the natural noises all around you with Chamomile & Vanilla in hand. It doesn't get much better than this.
Mint Melange   
Hit refresh with a crisp blend of smooth, delicate mint – tingly on the tongue, gentle on your stomach. Never underestimate the power of a good yoga session. Strengthen your mind and body with a good stretch and a satisfying yet exciting cup of tea. Calm cool and collected – both a description of you with yoga and your tea! Stretch and unwind with Mint Melange.  
So, whether you are swinging in a hammock, spending time meditating or curling up with a good book, pair all of your soothing activities with Salada Soothing Teas. Life is crazy, loud, busy and confusing, make sure to take time to turn off and tune out. Enjoy this calm collection of songs selected to help you unwind. We hope you enjoy!