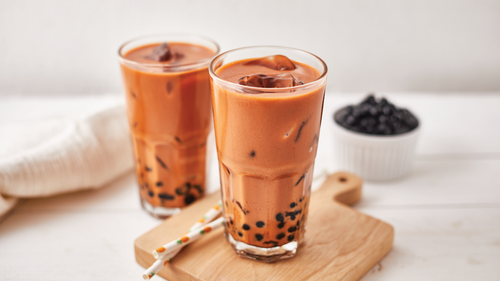 Easy At-Home Bubble Tea
Chances are if you've tried bubble tea, you probably love it and if you haven't, you're probably a little bit scared to. Well we are here to deliver this iconic drink right to your kitchen. This unconventional way to drink our black tea is super fun and super delicious!  
Serves 2 
Ingredients: 
4 Salada Original Black Tea bags

2 cups water 

¾ cups

prepared Tapioca Pearls 

3

tbsp. c

oconut milk to serve (or your favorite type of milk)

3 tbsp. h

oney to serve (or your favorite type of sweetener) 
Instructions:  
Boil water and steep tea bags according to package. Allow tea to completely cool.

Prepare the tapioca pearls as specified on the package. The boiling process typically takes about 5 minutes.

Divide prepared pearls into 2 glasses, add a cup of tea to each glass followed by ice

. Add 1 ½ tbsp., of milk and 1 ½ tbsp., honey to each glass.

Mix and taste – add more milk and/or honey to your preference.

Enjoy!