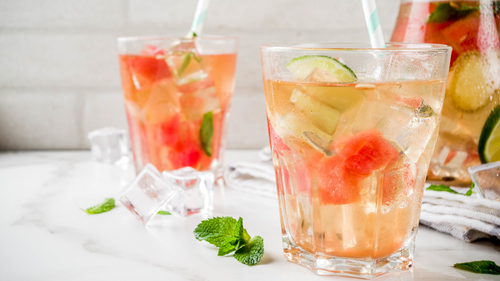 Watermelon Green Tea Refresher
Our Watermelon Green Tea Refresher Recipe is the perfect combo of watermelon, limes, and our #deliciouslyeasy green tea! Exactly what you need on those hot summer days. Get the details below!
Ingredients:
5 Salada Green Tea bags 
4 cups watermelon, cubed and seeded, chilled
3 tbsp. fresh lemon juice
Lemon and lime slices for garnish
Instructions:
In a medium saucepan, bring 5 cups of water to a rolling boil. Remove pan from heat, add tea bags.
Allow tea to steep for 5 minutes. 
Once your green tea is chilled, add watermelon cubes and lemon juice. Stir well.
Pour into a glasses and serve with a slice of lemon, lime and lots of ice!