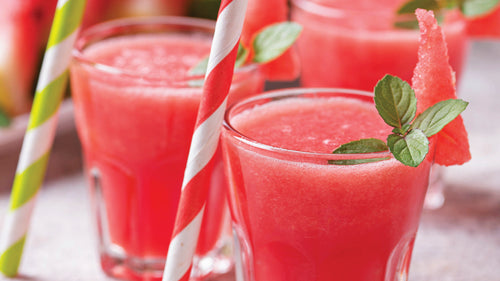 Watermelon & Green Tea Smoothie
Our Green Tea Watermelon Smoothie Recipe is beyond YUM. A combination of green tea, watermelon, lemon, and honey... it make's a delicious breakfast smoothie, a tasty afternoon snack or an evening treat.
Ingredients:
2 Salada Pure Green Tea bags
2 cups of chilled watermelon, roughly chopped
1 cup of water
1 ½ tbsp. of honey
1 tsp. of lemon juice
Handful of ice cubes
Instructions: 
Bring water to boil, pour over tea bags and steep for about 3-5 minutes. Chill tea overnight.
Place all the ingredients in a blender, and blend until smooth.
Add ice cubes to serving glasses and pour smoothie on top.
Serve immediately and enjoy!