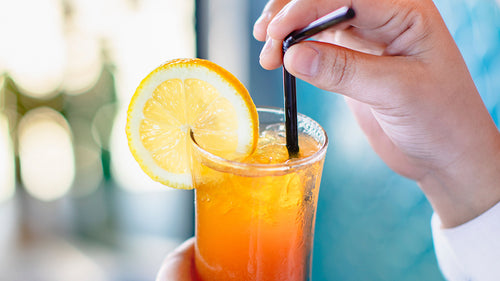 Iced Green Tea with Lemon & Honey
Iced green tea with lemon and ginger makes for a refreshing and revitalizing beverage. Each glass is naturally sweetened with honey and jam packed with antioxidants. Perfect for those warm summer days! 
For the Iced Green Tea
Ingredients:
6 Salada Green Tea bags 

6 cups of fresh water 
For the Lemon Ginger Syrup 
Ingredients:

1 cup of water 

½ cup of granulated sugar
½ cup of honey 
⅓ cup of peeled and sliced fresh ginger
¾ cup of lemon juice
Lemon peel from about 2 lemons
Instructions:
Bring water to a boil and tea bags steep for 7 minutes. Once cooled, refrigerate.

Stir together water, granulated sugar and honey in a saucepan on medium heat. Let it come to a simmer.

Once the sugar has dissolved, remove from heat and add ginger, lemon juice and lemon peel.

Stir and let syrup cool to room temperature.

Once cooled, pour syrup through a strainer to remove the ginger and lemon peel.

Store in an airtight container in refrigerator. 
To serve:
Add your desired amount of lemon ginger syrup to iced green tea. Adjust syrup amount to your liking!