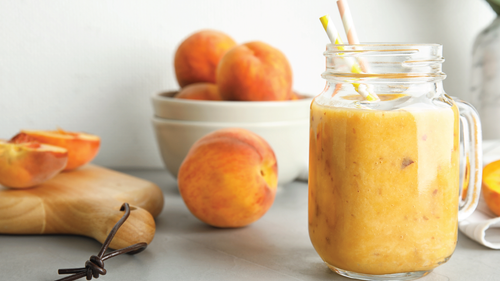 Peach & White Tea Smoothie
Nothing says sweet summertime like a fresh juicy peach! This delicious smoothie made with peaches and yogurt will be your new summer favorite! Have it in the morning, for an afternoon snack, or as a dessert replacement in the evening. It's a win, win all the way around! 
Serves 2
Ingredients:
1 cup of Salada Pure White Tea
1 ripe peach pitted and sliced (no need to peel, the skins will blend right up and won't be noticeable)
1 banana (no need to slice it just break it in half and add both pieces)
¾ cup plain Greek yogurt
1 cup ice cubes
Instructions: 
Brew Salada pure white tea and let tea cool before adding to smoothie.
Add all ingredients to your blender until smooth.
Stir with spoon to make sure everything is blended.
Enjoy!