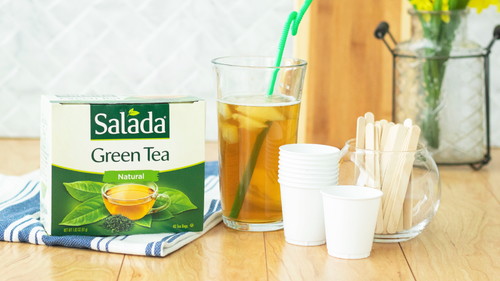 Easy Green Tea Popsicles
Our green tea popsicles are the perfect treat for those hot summer days. Refresh and relax with the calming taste of green tea frozen into your favorite summertime snack! Green tea is a great source of antioxidants, smooth flavor and it's naturally sweet – it'll be hard to believe this delicious dessert is also healthy! 
Makes 6 popsicles. 
Ingredients:
2 Salada Green Tea bags 
1 ½ cups of water 
2 tbsp. of honey (optional)
Popsicle Mold (or 6 reusable cups)
6 Popsicle Sticks
Foil or Plastic Wrap
Instructions:
Bring water to boil and add in tea bags.
While tea is still hot, mix in honey and let tea cool slightly.
Pour tea into popsicle molds and add popsicle stick.
If you are using cups for your popsicle mold, cover each cup with foil or plastic wrap and insert stick so it stands.
Freeze overnight.