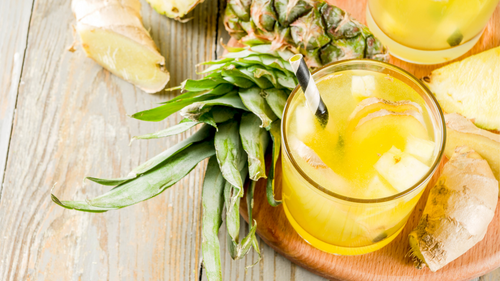 Pineapple Green Tea
Dreaming of warmer, tropical, sun filled days? Us too. Our home brewed Pineapple Green Tea recipe will take you straight to the island. A refreshing combo of sweet pineapple and a hint of citrus, one of those drinks you will never want to end! 
Ingredients:
6 Salada Green Tea bags
10 cups water
1 cup fresh, frozen, or canned pineapple chunks
1 medium orange, sliced
1/2 cup honey
Instructions:
In a medium saucepan, bring 6 cups of water to a rolling boil. Remove pan from heat, and add tea bags. Allow to steep for 5 minutes.
While tea steeps, add pineapple chunks, orange slices, and honey to a pitcher.
Once tea is ready, remove tea bags and discard.
Pour warm tea mixture over the pineapple, oranges, & honey, and stir until well mixed and the honey has melted.
Add the remaining 4 cups water to the tea and stir.
Serve over ice and enjoy!