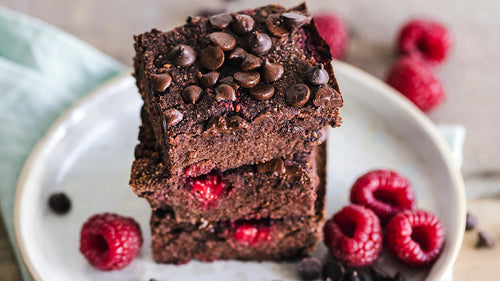 The Best Healthy Brownies
These healthy brownies have it all – they're so fudgy and delicious that no one would suspect they're healthy PLUS they're so easy to make! They also pair well with your favorite Salada green tea!
Ingredients:
1/4 cup of oat flour
1/4 cup of unsweetened cocoa powder
1/2 tsp baking powder 
1/2 tsp salt 
1/2 cup of bittersweet chocolate, chopped 
2 tbsp. coconut oil, melted 
1/2 cup cane sugar 
3/4 cup Greek yogurt 
2 eggs 
1 tsp. vanilla extract 
1/4 cup chocolate chips to mix in 
Instructions:
Preheat oven to 350 degrees F and grease an 8x8 baking pan.
In a small bowl, mix flour, cocoa powder, salt and baking powder.
In a large bowl, melt the chocolate and coconut oil together, mix well until completely melted.
Add the sugar cane, Greek yogurt and vanilla extract, to the chocolate coconut mixture and stir. 
Add the dry ingredients to the wet ingredients and whisk until just incorporated. 
Fold in the chocolate chips. 
Pour batter into greased pan and bake for 25 minutes. 
Place brownie pan on a wire rack to cool. 
Enjoy with your sweetheart and your favorite cup of Salada green tea!