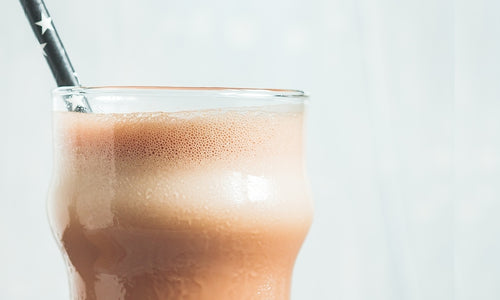 Kick the Cravings Smoothie
We are all collectively kissing 2020 goodbye, and with it all its bad habits! There is no time like the present to get on your grind and show 2021 who's boss. At Salada we are big supporters of doing what's best for you in the way that works for you. We can't expect everyone to go on a celery juice diet on January 1st but we can offer you easy recipes and inspiration to help move you in the right direction. Rome wasn't built in a day, give yourself grace and move into this year making better choices one step at a time.  
One way to ease into a healthier New Year is by substituting the carbs and sugar-filled breakfasts with something that hits the spot but also nourishes your body. Our Kick the Cravings Chocolate Banana Smoothie is the perfect way to fuel up for the day and the New Year! 
INGREDIENTS 
1 cup unsweetened almond milk (or your favorite milk substitute) 
1 banana  
2 tbsp peanut butter (or your favorite nut butter) 
1 ½ tsp cacao (or dark cocoa powder) 
1/8 tsp ground cinnamon  
4 – 5 pitted dates 
1 cup ice  
INSTRUCTIONS  
Combine all ingredients in 

blender starting with almond milk

 
Blend until smooth

 
Enjoy!