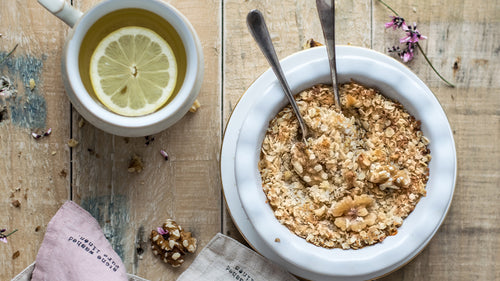 Simple Apple Spice Oatmeal
T-minus 8 days until Thanksgiving. We are starting to see that Thanksgiving will look a little different for everyone this year. No matter where you find yourself, we want to help lighten the load. Our apple spice oats are just what you need this Thanksgiving. Seasonal flavor mixed with hardy healthy nutrition; you can't go wrong!   
On a day where dinner is the focus, the last thing you will want to think about is breakfast. However, the people in your life will be asking if dinner is ready just about all day if they don't have a healthy filling breakfast to hold them over. You can whip this dish up in the morning and serve it hot or make it the night before and serve up some delicious overnight oats right out of the fridge. Start the day with a festive and filling meal to kick off the celebrations in style. 
The best part about this recipe, it's incredibly easy. We love when you can make something as delicious as it is simple! We know time with your family is important, why add more time than necessary to any given task? This is a meal you can throw together super quickly that your family will love.  
This recipe can be made gluten free by simply utilizing your favorite gluten free grain. This recipe is also easily customizable and built to be dairy free.  We substituted coconut sugar for brown sugar as a healthier alternative.  You can also get creative and use apple juice as your liquid base instead of milk to multiply that apple flavor! 
Our apple spice oats pair perfectly with a hot cup of green tea! Add in some lemon for the perfect wake up combo. You have a big day ahead of you, make sure to take some time in the morning to fuel up and spend some time focusing on you.  
INGREDIENTS: 
1 apple 
2 cups almond milk  
1 cup gluten free oats  
1/8 tsp salt 
1/8 tsp cinnamon 
1 tbsp coconut sugar 
1/8 tsp nutmeg  
INSTRUCTIONS: 
Wash and core apple and cut into small cubes

 



Bring almond milk

 to boil in saucepan

 



Add salt apple and oats to saucepan and let cook for 7 – 10 minutes stirring occasionally 

 



Remove from heat and stir in 

remaining

 ingredients

 



Serve immediately or store in the fridge within 2 hours to serve it up as overnight oats!

 
TIP 
Get creative and top this dish with some more chopped apples, cinnamon, honey, nuts or any of your favorite oatmeal toppers!