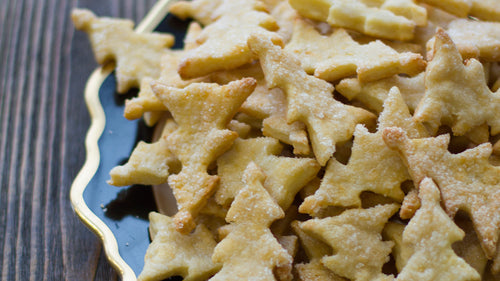 Green Tea Sugar Cookies
Wow your guests with these Green Tea Sugar Cookies. A sophisticated twist on the classic Christmas cookie! 
Ingredients:
1 Salada Pure Green Tea bag
3/4 cup unsalted butter slightly softened to room temperature 
3/4 cup granulated sugar 
1 large egg 
2 tsp. pure vanilla extract 
1/4 tsp. almond extract 
2 1/4 cups all-purpose flour 
1/2 tsp. baking powder 
1/4 tsp. salt 
Instructions:
Brew green tea according to package and let cool completely.
In a bowl, combine the flour, baking powder, and salt. Mix until blended and set aside. 
In the bowl of your mixer, beat the butter on medium speed until light and creamy. 
Add the sugar and continue beating for 2 minutes. 
Add the egg, vanilla, brewed green tea and almond extract, beat well.
Mixing on low speed, slowly add the flour mixture and until well blended. 
Remove the dough and shape into 2 disks about an inch thick. Wrap the dough in plastic wrap and refrigerate for at least an hour. 
Once the dough is chilled, remove one disk from the refrigerator. Position a rack in the middle of your oven and preheat it to 350 degrees. Line baking sheet with parchment paper. 
Roll the dough out to about 1/4 inch thickness, if dough is sticky you may want to dust your surface with a little bit of flour. 
With cookie cutter, cut as many shapes as you can and place cookies on baking sheet. Re-roll the remaining dough and cut out more cookies. Repeat until all dough is used. 
Bake in the oven for 10 minutes or until cookies are slightly golden. 
Let cookies cool completely and enjoy!