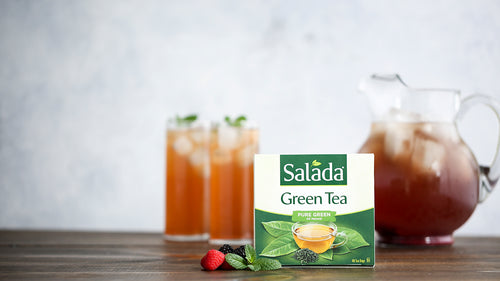 Mixed Berry & Mint Iced Green Tea
This sweet medley will lift your spirits in no time! Mix raspberries, blackberries, mint, and green tea for a flavor combo that's sure to please! 
Ingredients: 
1 Salada Family Size Green Tea bag

4 cups of water
A couple fresh mint leaves
1 c fresh blackberries
1 c fresh raspberries
1 tbsp honey (optional)
Ice
Additional mint and berries for presentation
Instructions: 
Bring four cups of fresh cold water to a boil.
Pour boiling water over 1 Salada Family Size Green Tea bag and mint leaves in a 32 oz pitcher.
Let it steep for 5 minutes.
Puree raspberries and blackberries.
Strain berries with fine mesh sieve to remove seeds.
Remove brewed tea bag and mint leaves.
Add stained berries and honey (optional) to the tea and stir.
Pour tea into glasses with ice, garnish with fresh berries and mint. Enjoy!