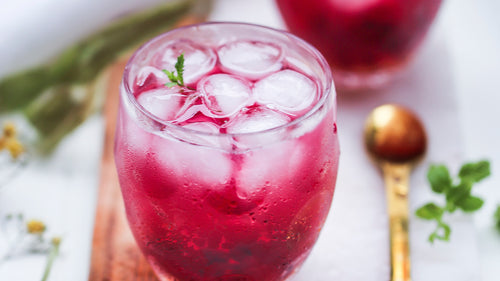 Pomegranate Green Tea Punch
Raise a glass with your loved ones! Our Pomegranate Green Tea Punch is made with our deliciously easy green tea, pomegranate juice and ginger ale. It's the festive drink everyone will enjoy this holiday season! 
Ingredients:
6 Salada Green Tea bags
3 cups of Ginger Ale
1 cup of Pomegranate Juice 
2 oranges, sliced
1 cup of fresh cranberries 
Ice 
Garnish:
1 orange, sliced
1/2 cup of cranberries 
1 pomegranate 
Instructions:
Brew green tea according to package. Let cool completely.
Wash the cranberries, slice the oranges and remove arils from pomegranate.
Fill the pitcher or punch bowl about halfway with ice. Dump in 2/3 of your orange slices and 1 cup cranberries.
Pour in Salada Green Tea, 1 cup pomegranate juice and 3 cups ginger ale into pitcher or punch bowl. 
Garnish each drink with a few cranberries, an orange slice and a few pomegranate arils.
Serve and enjoy the holiday season!